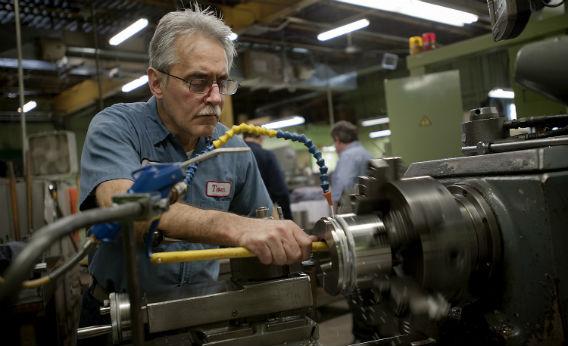 Just about every job that exists or ever will exist can be placed into one of three categories:
white collar: professional or managerial work such as business management
blue collar: manual labor such as flipping burgers or washing dishes
pink collar: service work that requires direct interaction with customers
The labels are a holdover from the days when workers of those types literally wore clothing of those colors. In this article we will be discussing blue collar jobs exclusively.
What these jobs are like
Most of the jobs that are commonly looked down on as menial, requiring few skills, paying low wages and not offering many opportunities for promotion within the same company, belong in the blue collar category. This does not mean, however, that all blue collar jobs fit that description. On the contrary, there are plenty of blue collar jobs out there that pays enough for the worker to live independently, even if only modestly. The jobs described below are blue collar in the sense that they require manual labor, yet all of them call for a great deal of skill and judgment and they pay at least $60,000 per year. A college education and a license may be required in some cases.
1) Petroleum pump system operator
Many petroleum pump operators work for the Navy. They transfer fuel from one tank to another and oversee the refining process, which involves using a phone or radio to signaling to the roughnecks to open and close the valves on the pumps and check their flow rates, temperatures and pressures. After a few years of experience on the job, they may also qualify for promotion to foreman, in which position they mentor newer workers and bring in trainers. The minimum requirements for the job are a high school diploma and an apprenticeship or similar experience.
2) Power line installer and repair person
This employee installs and repairs the cables and wiring in buildings, transmission towers and other structures that require the use of electricity. The employee, who may go through an apprenticeship program, will almost always be put through an extensive on-the-job training session.
It is a physically demanding job. A power line repair person may have to work long hours at the top of a pole, often in bad weather, including even snowstorms. He or she also digs holes in which electricity poles are to be placed and goes on top of the poles or into a manhole to string or repair the wires. Workers often receive overtime in addition to their regular salary, which has a medium value of $63,250. For those interested, you can learn how to become a line installer on FindHow.com.
3) Train operator
A train operator may run either streetcar or subway locomotives. He is responsible for the safety and well-being of all the passengers on board the vehicle that he operates and must keep an eye on and obey all of the railroad signals, which, in addition to telling when to slow down and stop, may also indicate danger farther down the track. He also makes sure that the passengers get on and off the train safely. A high school diploma and some on-the-job training are usually all that are required. Train operators have often been the subject of folklore and songs, including "Casey Jones" and "Billy Richardson's Last Ride."
4) Power plant distributor and dispatcher
At $83,034 this is one of the highest-paying blue collar jobs that can be found. A power plant distributor/dispatcher works on a range of tasks that involve electrical systems; such tasks may include determining whereto the power should be redirected by analyzing and evaluating the readings in all places that have a connection to the power plant and instructing the workers on how to alter the flow. A college education and some experience, as well as a license, are usually required for this career.
Conclusion
As you can see, just because a job includes manual labor does not mean that it is a low-paying one. If you are in high school and do not mind physical work, consider one of these careers.